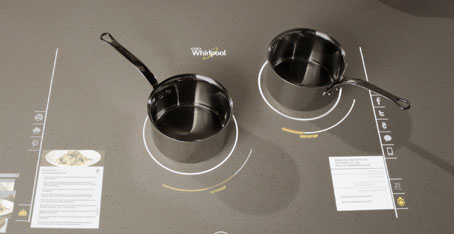 With the versatility of a cook-anywhere surface paired with the access of Internet connectivity and touch technology, the Interactive Cooktop frees you from the traditional limitations of the cooking experience. Find out more from Jason Tippetts, Brand Studio Design Manager of Global Consumer Design at Whirlpool®.
Q: Tell us some more about this exciting new concept product:
A: The Interactive Cooktop is all about doing what you need to when you need to, how you like to. Through seamless connection to mobile devices and Internet-based content, the Interactive Cooktop concept can truly enable you to manage your home from its heart—the kitchen. Fluid interaction, just-in-time feedback and intuitive cooking technology will enable flexible and efficient use of the appliance.  It provides information you need to make dinner intentions into dinner plans, lets you engage with friends and loved ones while cooking safely, and brings a sense of surprise and delight to the kitchen through approachable, cutting edge and intuitive design.
 Q: How does this concept work to achieve the Whirlpool goal of simplifying life for its customers? 
A: We can't pretend to stop the ever-growing complexity of our daily lives, but we can make managing those elements better and, above all, easier. By enabling you to multitask effectively in the kitchen, cooking becomes even more enjoyable and much more efficient.
 Q: How do you see this affecting the process of entertaining at home?
A: The interactive cooktop concept would greatly improve the process of entertaining at home. It can help produce a schedule of tasks leading up to your event, which takes away much of the stress of preparing for guests. It opens up an opportunity to be entertained while you cook and can coordinate your meal as if it were another source of media—recommending music to go with different meals. It can even remind you of guests' dietary likes, dislikes or restrictions based on profiles and recipes.
Check back during CES to get the full story on this and all the innovations of Whirlpool® 20|20.